Sikhs were once considered the protectors of Hindu society and Dharma. Punjabi Hindus often raised their oldest son in the Sikh religion, symbolizing shared values. Intermarriages blended the two faiths and cultures.
1984: Before and After
The advent of the Khalistan separatist movement in the 1970s and the rise of militant Sikh leader Jarnail Singh Bhindranwale changed all that. Khalistani gangs attacked Indian political institutions in Punjab— including police personnel and politicians- killing thousands of civilians and leading to a state of emergency. Bhindranwale moved his gangsters and advanced weaponry into the Sikhs' holiest shrine – the Golden Temple, compelling the Indian army to launch a military crackdown in which the top Khalistani leaders, including Bhindranwale, were eliminated. This led to another cycle of violence, culminating in the assassination of Indian Prime Minister Indira Gandhi in 1984 by her Sikh bodyguards, followed by widespread anti-Sikh violence, in which Indira Gandhi's son and successor, Rajiv Gandhi, and his political cronies allegedly played a key role. The biggest loss was the centuries of Hindu-Sikh camaraderie, becoming an unfortunate victim of the toxic atmosphere that the Khalistan movement had visited upon the society. However, things slowly returned to normal over the next few decades as law and order were re-established in the affected areas.
Canada – A Terrorist Haven in Disguise
Canada wears its multicultural credentials on its sleeve, as foreign-born people make up roughly one-fifth of Canada's population. The country takes justifiable pride in welcoming immigrants, rolling out the red carpet to facilitate their integration into society. However, this also makes it easy for extremist groups to set up their shop and become a menace to Canadian society at large. Unfortunately, many political parties in Canada consider them a reliable source of votes, giving them undue encouragement to carry out their nefarious activities.
Over time, Canada has come to be known as a haven for the world's extremist elements, particularly from Pakistan and the Khalistani criminals on the run from India. According to a Global News article, Canada runs a secret program[1] that grants visas to war criminals, terrorists, and other security threats. According to this article, Canada granted permanent residency status to Khaled Saber Abdel-Hamed Zahw in 2015. Zahw is a high-ranking member of Egypt's military that orchestrated a coup against President Mohamed Morsi in 2013. Just six months before he arrived in Canada, Zahw was deemed a security risk by Canadian security officials.
How Canada Became the Global HQ of Anti-Hindu Activities
As of 2021, Canada[2] is home to approximately 800,000 Sikhs, comprising 2.1% of the nation's total population, and concentrated in three provinces – Ontario, British Columbia, and Alberta. The Sikh community represents Canada's fourth-largest religious entity and is among its fastest-growing immigrant groups. Khalistani extremists represent a tiny fraction of Canada's Sikh community, less than 2%, according to some estimates. However, they are an extremely volatile group, often using violence or threat thereof to silence any opposition they might encounter.
In the aftermath of Operation Blue Star, as noted earlier, the Khalistani criminals running from the law in India found a much more hospitable environment in Canada. It wasn't long before they managed to regroup, build networks, and carry out acts of terrorism from bases in their newly adopted homeland – Canada. The downing of Air India Flight 182 in 1985, killing all its 329 passengers, is one of their "crowning" achievements and is considered one of the worst mass murders in Canadian history. Sadly, the Canadian government never saw it fit to prosecute anyone for that crime.
Canadian MP Ujjal Dosanjh, a moderate Sikh, bravely denounced the rising tide of Sikh extremism in the 1980s. His outspoken stance was met with chilling threats, instilling fear amongst those who dared to challenge extremism.
In another incident, on November 18, 1998, Tara Singh Hayer, a Canada-based Sikh journalist, was brutally assassinated[3] by Khalistani militants. Hayer, the publisher of the Indo-Canadian Times, was once a vocal advocate for the armed struggle for Khalistan. His criticism of the Air India Flight 182 bombing led to his brutal silencing.
A similar fate befell Tarsem Singh Purewal, editor of Britain's Punjabi-language weekly "Des Pardes." He was killed[4] while closing his office in Southall on January 24, 1995. Once again, sikh extremists were suspected of being behind the incident.
Terry Milewski's 2007 documentary[5] for the Canadian Broadcast Corporation (CBC) exposed the unsettling truth about the extremist minority within Canada's Sikh community, which, despite their public declarations of terrorism as a way to realize an independent Sikh state, continued to gain political influence. Similarly, Kim Bolan,[6] a Canadian journalist, has written extensive accounts of Sikh extremism, even as she continued to receive death threats over her coverage of the 1985 Air India bombing.
Despite this problematic law-and-order situation, Canada's ruling Liberal party and its prime minister, Justin Trudeau, continue to act with complete indifference. Celebrating past atrocities like Indira Gandhi's assassination in a recent public procession, with little or no repercussions from the Canadian authorities, sends a clear signal of tacit encouragement to the Sikh extremists and instills a deep sense of insecurity in the Hindu Canadian society.
Ensuring that their reputation stays at rock-bottom, Canadian Khalistanis again pick as their poster boy the psychopath who bombed Air India, Talwinder Parmar. He murdered 331 innocents for nothing. And – a grotesque twist – he'll be honoured at the memorial to his victims. 1/2 pic.twitter.com/7feI5UDCQb

— Terry Milewski (@CBCTerry) June 17, 2023
Vandalism in Hindu Temples in Canada
Recently, there has been a surge of Khalistani attacks [7] on Hindu places of worship in Canada. In February 2023, the Ram Mandir in Mississauga, Ontario, was vandalized, with its walls covered with pro-Khalistani slogans and anti-Hindu and anti-Indian slurs. A few months before, in September 2022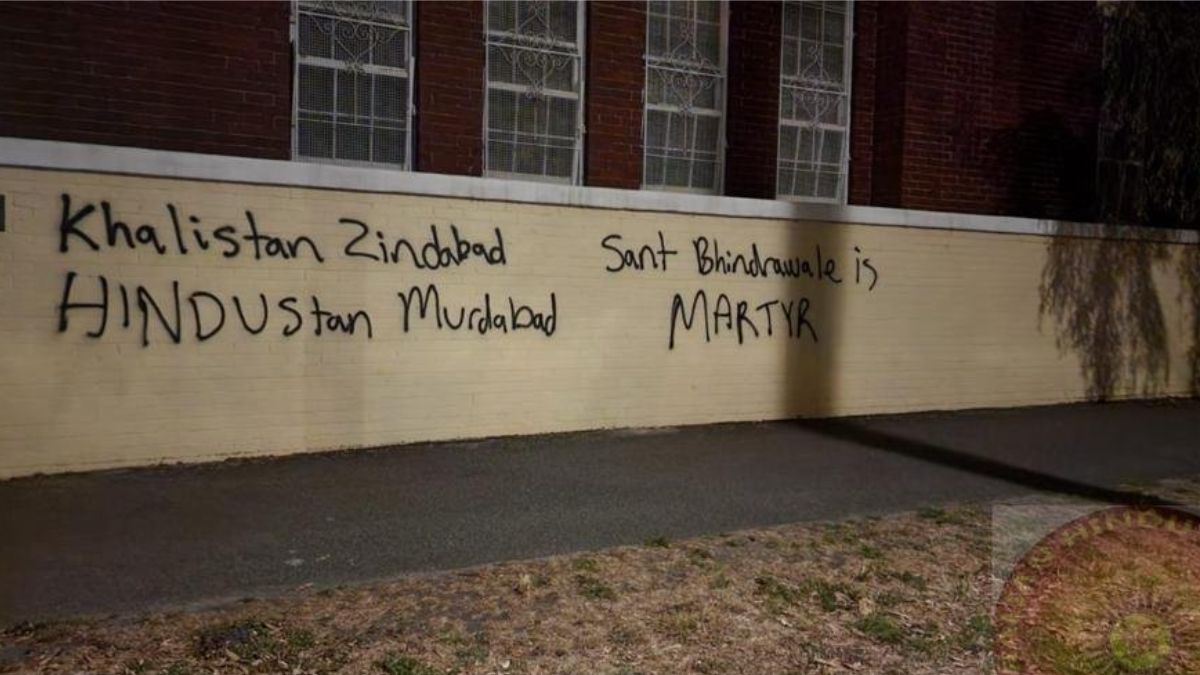 , the BAPS Swaminarayan Mandir[8] in Toronto was defaced with hateful graffiti. A year earlier, in February 2022, half a dozen Hindu places of worship in the Greater Toronto Area were vandalized and burglarized, with cash stolen from donation boxes and ornaments from adorning murtis removed.
Violence against Hindus
Statistics Canada reported a 72 percent increase in hate crimes based on religion and race between 2019 and 2021. Much of it was perpetrated by Khalistani terrorists against Hindus and Hindu interests. Last September, India's Ministry of External Affairs expressed its deep concern by issuing a stern statement[9] condemning the rise of hate crimes against Indians and anti-India activities in Canada.
Advisory for Indian Nationals and Students from India in Canadahttps://t.co/dOrqyY7FgN pic.twitter.com/M0TDfTgvrG

— Arindam Bagchi (@MEAIndia) September 23, 2022
Trudeau's Support of Khalistani Elements
The Canadian prime minister, Justin Trudeau, is well-known for ingratiating himself with the Sikh extremists in a bid to curry favors with the growing Sikh vote bank in Canada. In 2018, Trudeau paid a visit to Golden Temple, the famous Sikh shrine in India. Incredibly, his entourage included Jaspal Atwal – an Indo-Canadian businessman convicted in Canada of the attempted murder of an Indian minister in 1986 and a known Khalistan extremism sympathizer.
Despite repeated protests from India, Trudeau has remained obstinate, refusing to back off from his vote-bank politics to the utter disregard for the safety and well-being of Hindus in Canada.
The Rise of Jagmeet Singh and his links with Khalistan
The rise of Jagmeet Singh[10] as the first Sikh leader of a major national political party, and a committed Khalistani sympathizer, is an ominous signal of the advent of extremism in Canada's mainstream politics. Jagmeet has openly endorsed the Khalistan movement and has close ties with prominent Khalistani extremists. His popularity among the Canadian Sikh population and his political alliance with the ruling Trudeau government give him tremendous political clout, leading to a sense of intimidation and foreboding among Hindu Canadians.
Canada's silence on India's extradition requests
Several requests[11] from India's National Investigation Agency (NIA) for the extradition and deportation of terrorist operatives and pro-Khalistan elements, who are wanted for their alleged involvement in cases of terrorism, murder, and other related offenses, are pending with the Canadian authorities, according to government officials. India's External Affairs Minister S. Jaishankar has openly called out the Canadian government for "giving space" to extremists, separatists, and those advocating violence.
"We have been making constant efforts to get such elements deported, but the Canadian authorities are yet to take appropriate steps in this direction. The wanted accused [sic] have been masterminding killings and terror activities in Punjab and other parts of the country, in conspiracy with the local gangsters and their men," a senior Indian government official has said.
Canada's notable silence on this matter clearly suggests that it prioritizes its vote bank over its obligation to curb international terrorism.
Citations
[1] Canada has a secret program that grants visas to war criminals, terrorists, security threats
[6] International Women's Media Foundation
[7] Canada: Priests, devotees scared as temples vandalised, burgled in Toronto area
[8] Hindu temple in Canada defaced with anti-India graffiti, high commission calls for strong action
[9] 'Remain vigilant': Foreign ministry's advisory to Indians in Canada amid rise in hate crimes
[10] Oh!! Shut up Jagmeet Singh